Introduction
If your device (laptop or workstation) has a small hard drive, maybe because you have a 120GB solid state drive (SSD) as system drive, you might get into this situation. With such a setup you basically have your operating system (Microsoft Windows) and all your applications installed on the C:\ partition or drive. Due to this setup, if storage usage is growing you could run out of space on your system partition which could cause serious issues. I want to show you how to spot files or folders which are utilizing amounts of storage. When cleaning them up, you will get free space again. Windows Spot Disk Usage
TreeSize Free Portable
For this purpose I definitely recommend you to use the following application: TreeSize Free Portable. It is an portable application so there is no installation required, you can simply put it on your C:\ drive in a temporary folder for example. Just execute the application with administrator privileges so it has access to all of your system directories: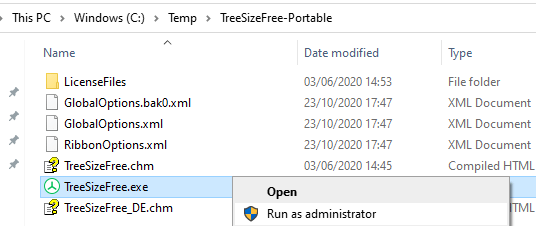 When the application started properly, you can select the drive to scan:

Now it will start to scan all directories located on the selected drive and list it. You can use the mouse or arrow keys to navigate through this structure and go into detail:

It is ordered size descending per default which is great. I definitely suggest you to check the whole directory structure where size is huge. Let us take an example here: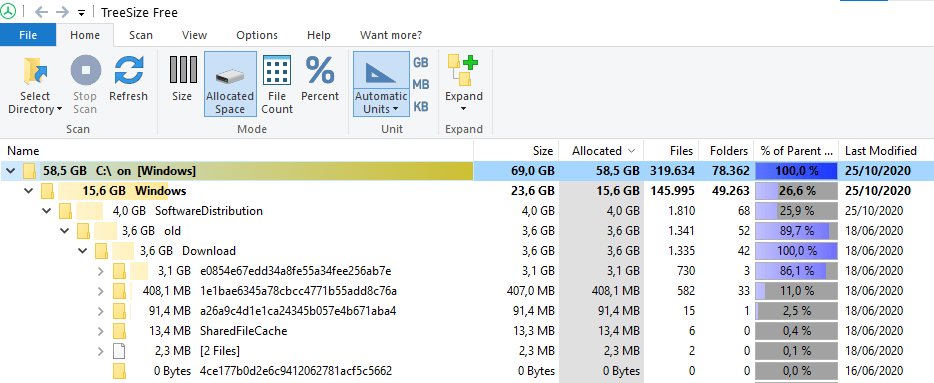 The SoftwareDistribution folder located inside Windows directory has a size of 4GB on this device. But 3,6GB of them are inside folder "old". I would say that this one is not needed anymore – but to be sure, I always look up the functionality of these folders at Microsoft Docs for example. Do not simply delete any system folders or files without further checking!
Probably this is not the best example because in most cases, you will find some application eating up your storage space with cache or similar inside AppData directory which is straightforward to clean up.
Windows Spot Disk Usage